Strategic Investing

Portfolio Results

Portfolio
2014
2015
2016
YTD
Aggressive
+ 16.4%
+ 14.8%
+0.6%
Conservative
+ 13.0%
+ 17.4%
+7.8%
Precious Metals

+8.1%

+ 17.7%
+34.5%
SI Watch List
+11.9%
8-Day Up
+0.4%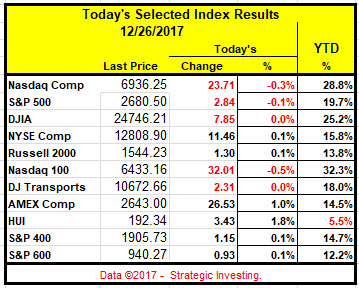 These values are presented as a courtesy to our users. We make no warranty as to
the accuracy of these numbers. Our Disclaimer and Terms and Conditions apply
when using our website.
Market Musings™
Friday, 9-23-2016
Air coming out of the balloon!
A pullback in Apple and declining energy valuations helped move the market decidely lower in today's trading. For the week, the indices remained positive.
Apple sank 1.7% in volume that climbed 39% above its 50-day average. It looks as if our recent short in Apple was ill-timed.
The Simple Timing Indicator remains positive for the NASDAQ but negative for the S&P 500.
The Portfolios and Stock Watch List have been updated for Friday.